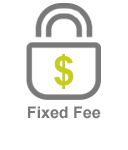 Capital Lawyers is able to offer conveyancing for the sale or purchase of your residential property in the ACT and NSW at a very special price.
We organise your lender to discharge or provide funds for settlement.
Central location with lift access and easy parking.
All our work is covered by full professional indemnity insurance and the ACT Law Society Fildelity Fund – you'll never need it but it's good to know it's there.

Why not call us? – it won't cost you cent to find out.
About our Fixed Fee
In the unlikely event that small hiccups arise in your purchase or sale we do not charge additional fees for extra meetings with you or your agent to iron out those problems and complete the conveyance quickly and hassle free.
When comparing our fees with those of others make sure that there are no hidden extras, or that the costs can rise.
About Conveyancing at Capital Lawyers.
We have a dedicated property section to give you the proper expertise and personal service that you need.
As we are Legal Practitioners, our work is fully covered by Professional Indemnity Insurance and the ACT and NSW Law Society Fidelity Fund. We are sure that you will never have any reason to be dissatisfied with our work, but it is reassuring to know that you have more security than just our word and reputation.
We look forward to hearing from you if you have any questions or would like us to help you with the sale or purchase of your property.
Useful Links »
Useful Forms »