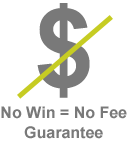 Each year many thousands of workers are injured in the course of their employment, whether on their way to or from work, on a building site, in an office or on a farm.
In every State and Territory of Australia, workers compensation laws operate to compensate these injured workers. However, depending on where you work, who is at fault for the injury and the severity of the injury, people have different rights to compensation available to them.
Here is a brief summary of the workers compensation rights of people injured in the ACT, NSW & Queensland. This information is intended as a Guide and more detailed information can be obtained by speaking with one of our highly qualified professionals.
NSW
ACT
QLD
Useful Links »
Useful Forms »